For Bay Staters who are eager to start planning a social event or gathering, we're here to say that Northern Italian Steakhouse, Davio's, deserves a spot on your shortlist.
A Massachusetts mainstay, Davio's is known for fine Italian cuisine, an impressive wine list, fresh seafood, and prime cuts of beef. As for the decor, Davio's welcomes guests with luxurious high ceilings, majestic columns, and wall-to-wall windows.
Davio's most recently opened up a Seaport location with six distinct locations in Boston and beyond. Let's tour their newest location, plus the six existing ones to help you choose which location will best suit your needs.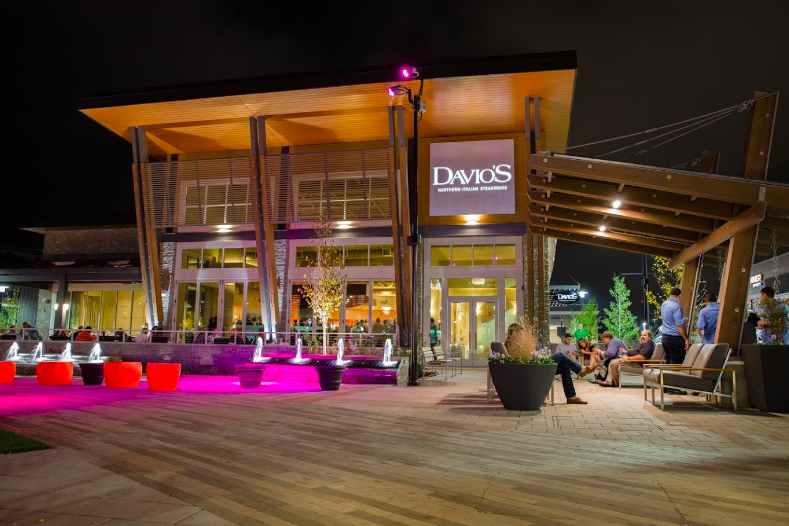 The 10,000-square-foot Davio's restaurant at King of Prussia Town Center joins six locations in Boston. With five private dining rooms and an outdoor patio to choose from that can accommodate groups of 10 to 70 guests for a full-service sit-down dinner and up to 100 for receptions. Arrangements for the entire restaurant may be made. Rooms are ideal for meetings, seminars, and presentations requiring audio-visual or Internet access. Arrangements for a restaurant full bout out can also be made.
---
With arguably the best views of any location, Davio's Seaport offers intimate private rooms, waterfront-facing dining, and ample outdoor space for any sized gathering.
Here you'll find stunning floor-to-ceiling windows throughout, an especially impressive venue for up to 350 guests to gather. Whether you're looking to celebrate with a dozen friends or host a full-blown wedding ceremony, this location is ready to make your day a success. There is accommodation for live bands or soundtrack music, plus food and drink service and an on-site pastry team.
For larger gatherings, Davio's has passed hors d'oeuvres (think cider bacon wrapped scallops and mini Kobe beef meatballs), reception displays with pasta, risotto, and carving stations, and plenty of desserts and drink to go around.
---
Perhaps Davio's most well-known location, Davio's Back Bay, is an equally versatile space accommodating groups from 15 to 200, with the option to take over the adjacent atrium for even more space if your guest list exceeds 200.
With a similar cocktail and reception menu at your disposal, don't overlook the splendor of a simple three-course sit-down meal here. Start with an arugula salad or San Marzano tomato soup with a goat cheese chive crostini. Choose between hearty entrees like rigatoni bolognese or braised beef short ribs with creamy potatoes and crispy onion rings.
Finish your meal with a chef's dessert sampler with all the best goodies like cream puffs, eclairs, fresh fruit tartlets, and mini cheesecakes.
---
Head to Chestnut Hill for one of Davio's coziest locations. With dining rooms available for groups of 10 to 100 guests or a 150-person reception, this is our favorite spot for a sunny brunch or a seated dinner.

If you're holding a brunch event, try the reception displays, especially if your guests are more likely to be night owls than morning people. Enjoy options like seasonal fruits, assorted pastries with mini muffins, donuts, danishes, or smoked salmon lox platters. Of course, you can make your brunch bubbly and get fun extras, including Prosecco, peach purée, orange juice, and grapefruit juice.
Holding a seated event? It will be hard to choose between the options for seated lunches, dinners, appetizers, and desserts. Whatever you select will be high quality, fresh, delicious, and well worth the debate.
---
Davio's Braintree is an incredibly comfortable and flexible venue just south of the city. With upholstered high-back chairs and movable square and round tables, this is an ideal spot for a corporate gathering or slightly more casual gathering. Best of all, the rooms are fully equipped with audio-visual and Internet access capabilities, perfect for presentations.
With space for 15 to 125 guests or 200 for receptions, this space can accommodate lunch, brunch, or dinner. Guests will not be disappointed with the lunch spread with plenty of options, including vegetarian. We'd be eyeing the pastrami sandwich with gruyere, brown mustard aioli, or the ham and brie with fig jam.
---
Foxborough has been home to many celebrations, with Gillette a short drive away. So it's no wonder that Davio's Foxborough has a distinctly joyous atmosphere. This venue can be home to your 15-person 40th birthday celebration in the wine room or a full-blown 500-person reception with indoor and outdoor spaces.
Speaking of wine rooms, Davio's received the 2020 Award of Excellence from Wine Spectator. The Foxborough location alone has an open wine room with 250 bins on-site. Beyond wine, guests can also enjoy specialty cocktails like the Mediterraneo Cosmo with Ketel One vodka, Ketel One Oranje Vodka, Cointreau, blood orange purée, and lemon.
---
Last but not least, we head to the North Shore to Davio's Lynnfield, where the atmosphere is warm and inviting, thanks in part to a cozy fireplace and open kitchen. Here, you'll find private dining rooms available for groups of 15 to 80 guests for a full-service sit-down dinner and up to 100 for receptions. Full buyout options bring the capacity up to 300.
With the open kitchen, this venue seems best suited for treating guests to a decadent meal. Think Maine lobster risotto with asparagus, fresh herbs, and lobster cream. Or, veal tenderloin with potato gnocchi and brandy peppercorn cream.
Ready to get your event planning underway?
Don't worry; Davio's staff will make it easy on you. With experienced event managers by your side, no matter which location you choose, you can be confident that the logistics will be handled so you can sit back and enjoy your highly-anticipated gathering.
Get your party started on Davio's venue page. And make sure to follow their Facebook and Instagram accounts.