EventUp by Tripleseat now integrates with Tripleseat's groundbreaking Tripleseat+ Direct feature. When prospects view your EventUp listing, they can book an event or catering order directly from the listing site using your Tripleseat+ Direct form.

This means that in addition to being able to submit a lead inquiry, prospects can actually submit a booking for you to accept directly from your venue's EventUp listing. All the client has to do is click the Book Now button located above the request quote section.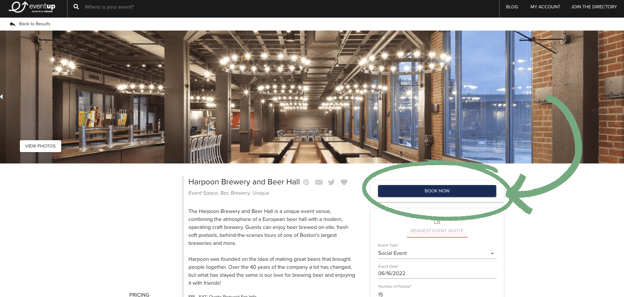 To set up Tripleseat+ Direct in your venue listing, you must be a Tripleseat customer, already have Tripleseat+ Direct set up in your account, and have access to settings. If you haven't yet set Tripleseat+ Direct up, simply follow the steps listed HERE.
Once Tripleseat+ Direct is set up and you're in settings, click on EventUp and then click edit next to the venue listing you want to add the Tripleseat+ Direct form. Scroll down to Miscellaneous Details, and you'll see a dropdown for Tripleseat+ Direct Form. Select the Tripleseat+ Direct form you want to link to your listing and click update.


Removing the form is just as simple. Follow the same directions to remove the form or to switch to a different Tripleseat+ Direct form.

Adding your Tripleseat+ Direct form to EventUp makes it even easier for prospects to find you and book with you. The process is simple and straightforward. The Tripleseat+ Direct and EventUp integration was built to bring your venue more business and make you more money.

For more information on how Tripleseat+ Direct on EventUp works, check out the below video.
Not a Tripleseat customer yet? Tripleseat is a catering and event management web-based platform for restaurants, hotels, and unique venues that will increase sales and streamline the booking process.