If you have a passion for luxurious cars or just want a unique and exhilarating experience for your next event, be sure to check out EventUp's featured venue, Clutchhouse Venues - Manhattan Motorcars. Located in NYC, Clutchhouse Venues offers an exciting and versatile collection of event spaces within Manhattan Motorcars along Eleventh Avenue on The West Side.
No matter which space you choose, your party will be extremely one-of-a-kind and ultra cool. Whether you are planning a milestone birthday party, an immersive corporate brand event, or any other event of your imagination, Clutchhouse Venues is sure to rev the engine of car enthusiasts or novices.
Get Your Party Engines Started
Clutchhouse Venues began with a straightforward event concept: to coordinate events where the guests are surrounded by luxury vehicles and gorgeous city architecture. Today, Clutchhouse Venues has grown into a collection of premiere event spaces that help people create one-of-a-kind experiential events. Their offerings include unrivaled features and spaces, access to hot cars, and breathtaking city views. They create event memories that are sure to excite your guests and last for a lifetime.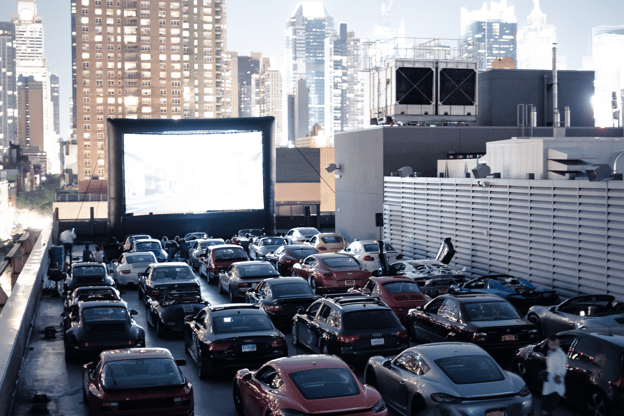 Variety of Spaces
The available event spaces at Clutchhouse Venues - Manhattan Motorcars were built to accommodate all sorts of events. Like a blank canvas, these multi-purpose spaces are designed with either white or black clean contemporary walls and gallery lighting. There are 5 floors of indoor areas. The clean lines and open spaces allow for the versatility of furniture placement and food and beverage setup. Some spaces have added amenities such as built-in bars, glass-enclosed breakout rooms, and kitchens. Remember that they have a large rooftop situated high above the city. It's a perfect oasis for an outdoor event, with views of the Hudson River and the city lights.
Expansive
With approximately 14,000 total square footage, Clutchhouse Venues - Manhattan Motors is a super large opportunity for NYC events. They can accommodate various-sized events from 100-600 people. Here is the capacity breakdown of how many guests you can have in each space:
Entire Location: 600 guests

Main Stage: 300 guests

The Loft: 200 guests

The White Box: 125 guests

The Black Box: 100 guests

Rooftop: 300 guests
Dramatic Views
At this amazing venue, host your event indoors and enjoy the oversized windows that drench the space with natural light and give you a great scenic view. An evening affair will give you twinkly city lights as a lovely backdrop. Enjoy the views of Manhattan city life and the majestic Hudson river.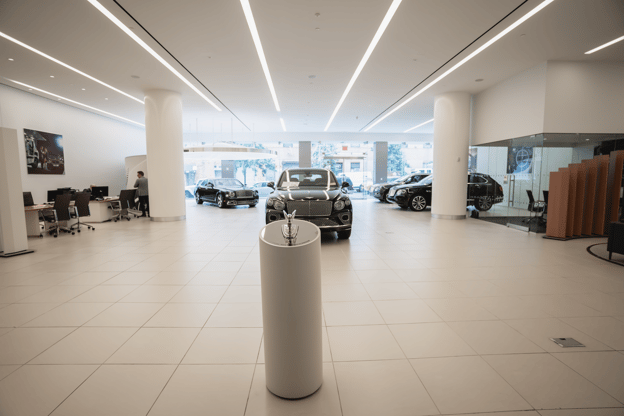 Cars, Cars, Cars!
The fundamental reason that this event venue is so chic is its luxurious cars. Manhattan Motorcars is New York City's authorized dealer for BAC-Mono, Bugatti, Bentley, Porsche, Lamborghini, Koenigsegg, Moke, Rolls-Royce, Rimac, Lotus, and more classic cars. Having beautiful autos on display in your event space is sure to bring on the wow factor to your party.
Check out EventUp, the leading global venue marketplace, for your venue search to find amazing venues like Clutchhouse Venues - Manhattan Motorcars. EventUp makes finding an event space of any type or size easy. From bowling alleys to concert venues and everything in between, EventUp has what every event planner is looking for.