When you walk through the door of any Maman café, the heavenly scent of warm, delicious baked goods and french cuisine greets you. The aroma of this café is a reason to celebrate all by itself!
What began as an independent bakery located in Soho in 2014 has evolved into a highly-desired, unique place for groups to gather. Maman's New York, New Jersey, and Maryland locations offer elegant spaces for special occasions and catering to make your event memorable. Today, we feature this amazing venue and its locations so that you can plan your next special event.
Bespoke Menus
Maman has uniquely perfect menu options for your next birthday party, baby shower, anniversary, intimate wedding, or work outing. Whether you opt to hold a private dining experience or use their efficient catering services, you will be delighted. The luxurious and detailed baked goods and cuisines found at Maman are inspired by family traditions and make for a wonderful centerpiece for your event.
Their brunch, lunch, and dinner items use the highest quality, locally sourced ingredients. You'll find exquisitely crafted pastries, tartines, sandwiches, soups, and more. Pair those with seasonal and classic cocktails, wine, or beer. Be sure to preview their beautiful menus, which can vary a bit, and inquire how they can customize for your gathering.
Rustic, cozy décor
Maman has traditionally amped up the french café charm in their spaces by including vintage furnishings and dishware coupled with rustic elements. They are known for incorporating exquisite flowers and plantings that line the walls and ceiling. Charming provençal-inspired wallpaper outlines bistro tables and farm tables in the spacious café. The custom toile-printed espresso machines make the final touch. At each event location, space may vary. Maman is happy to work with you to transform their space to fit your event.
Events and Catering by Location
The Bryant Park location, 114 West 41st street, shares the aesthetic vibe that we love about Maman's. This location accommodates seating up to 34 guests and standing up to 50 guests. Perfect for intimate weddings, birthdays, and more!
Located at 154 Court Street, Maman Cobble Hill is ideal for birthday parties, cocktail parties, and more. It's a magical location. Their cozy dining space accommodates up to 35 seated guests and to 45 standing guests.
Situated at 375 Hudson Street in the South Village, Maman King feels like a greenhouse. Host your birthday party or even a micro-wedding. This location can accommodate seating up to 40 guests and standing up to 80 guests.
This location at 239 Centre Street is where it all started. Maman Soho's dining room seats up to 18 guests with two large banquet-style tables. Standing receptions can accommodate up to 22 guests. Perfect for a smaller gathering for a special event.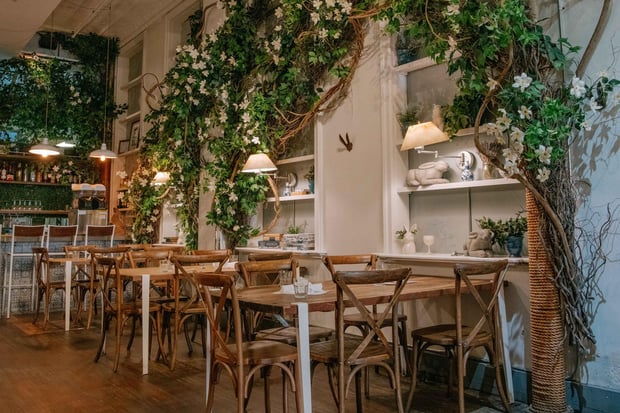 Maman Tribeca is ideally located at 211 W Broadway and offers two spaces in their café. The spaces can be divided or used as one. You can host your next party for up to 35 seated guests or up to 100 standing guests. Cocktail receptions are wonderful here.
On the Upper East Side, find Maman at 1424 3rd Avenue. Here you and 30 guests can sit down and enjoy a celebration over amazing cocktails and food. If you prefer a standing reception, this location accommodates up to 80 guests.
The New Jersey Maman location, 70 Hudson Street in Jersey City, as with all Maman locations, has a charming ambiance. This one is waterfront, and we love the blue and white tiles contrasted with rustic wood. The cozy beautiful dining space is perfect for intimate sit-down dinners for up to 46 guests. If you opt for cocktail-style events, you can have up to 50 guests.
This is Maman's first location in Maryland, and it is perfectly placed on a charming cobblestone street at 7140 Bethesda Lane. It offers indoor and outdoor event options for a gathering, big or small.
To visit the Maman listings or check out other venues, head over to EventUp, the leading global venue marketplace, for your venue search. EventUp makes finding an event space of any type or size easy. From bowling alleys to concert venues and everything in between, EventUp has what every event planner is looking for.