Whether you're planning the perfect birthday bash or the next best wedding engagement party, there are a host of reasons to consider booking a brewery for the event. Offering unique spaces and fresh beverages, they are a fantastic way to celebrate while enjoying an array of libations. Consider these reasons for supporting the brew businesses with your next party or private gathering.
The Vibe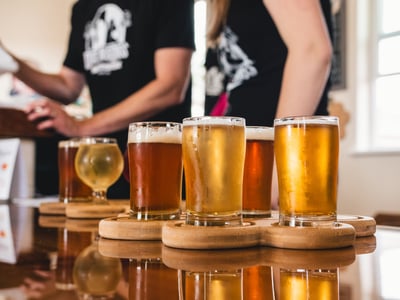 Breweries are totally in style right now, with many of them offering a backdrop you won't find anywhere else. Many breweries are housed in industrial settings, giving you a chance to enjoy design trends like exposed brick, pipes, and high ceilings. Don't forget that breweries are fully functioning businesses, too. There's really nothing like having your party next to the equipment that's making the very drink you're enjoying at the moment.
Most breweries have more than beer to keep guests entertained. Some have games like cornhole or ping pong, a stage for bands, local food trucks, and lots of outdoor seating.
Event pick: The only brewery in a U.S. National Park — as well as the only one to use thermal spring water in the beer, Superior Bathhouse Brewery in Hot Springs, AR, is a beautiful venue with an eye on sustainability. With room for between 20 and 200 guests, you'll enjoy a dedicated private bar, ADA-accessible 2nd-floor accommodations, and 16 taps to complement their delicious menu options.
The Space
If you want a place that feels open, inviting, and ready to accommodate your whole crew, a brewery is a top spot. They have the room for giant vats and all the necessary parts to brew for thousands. Making a place for your close family and friends should be no problem. If high ceilings and open spaces are your things, you'll feel right at home in a modern brewery.
Many have multiple rooms to choose from, too, from formal dining rooms to the barrel rooms to public taprooms. With accommodations ranging from 50 to over 300 people, you can find the just-right size of brewery to make you feel cozy.
Having an event during the warmer weather months? Breweries are also known for their ample outdoor space, patios, picnic tables, fire pits, rooftops, and gardens or scenic views that allow guests to relax and enjoy their celebration.
The Price
The actual booking fee for a brewery varies, as each has a unique menu of amenities to offer. Compared to extravagant private clubs or large conference centers, however, they are considerably more budget-friendly. Breweries are often privately-owned endeavors looking for ways to creatively grow their market. Branching out into event hosting is new to many of them, and they are usually happy to offer a variety of price points to fill their calendar.
You can also find the beverage service to be priced right, as well. Many people find that the beer offers a better value when bought directly from the brewer. Plus, you can't beat the freshness or quality you get for that price. It's a way to give a good impression for less.
Event pick: Three Taverns Brewery is a Decatur, GA, gem, giving partygoers three event spaces to host everything from wedding receptions to corporate events. Choose from the Parlour, their tasting room with aged timbers and intricate brickwork — or go with the Barrel Room where the beer is made to perfection! This venue allows outside food catering to make your event the best ever.
The Drinks
Let's face it. It's often the beverages that make the party a true party. When hosting at a brewery, your drinks are in the bag! Craft brews are very trendy right now, with all kinds of flavors and varieties for even those who don't drink the stuff often. From seasonal delights to staple brews, the opportunities to wow your guests with just the right drink for the occasion are numerous. Many also offer other beverages for parties, too. Guests may also be able to take advantage of beer flights offered by the brewery to try out multiple beers on the menu. Partnering with wineries and offering non-alcoholic choices, as well, you'll find this to be the best way to sample a little bit of everything in an energetic atmosphere.
The Food
When it comes to food for your event, breweries offer something that other venues don't: flexibility. There are breweries that have kitchens and can easily cater an event. But some breweries don't, so they allow clients to bring in catering vendors or will recommend local food trucks for hire to provide a wide selection of food choices.
The Photos
Remember those beautiful brick walls we told you about before? While the actual design of the brewery interior will vary, each will have a unique personality that will pop in photos. From Insta-worthy moments to those professional pics that will go great in an album, there's something brilliantly beautiful about the setting inside a brewery. You won't need to do much to create that picture-perfect moment!
Event pick: Did somebody say "tacos?" If you want your event to be a bit spicy, consider the combo that Cruz Blanca offers with its Chicago-based brewery and taqueria. With recipes from award-winning chef Rick Bayless and amazing house beers, this is the place for creating tasty moments you'll never forget. This trendy venue offers room for up to 350 guests.
Raise your glass to these five reasons to book a brewery for your event. Happy couples are even adding these venues to their wedding plans. What's stopping you from toasting your best life inside one of these amazing locations?