Before we dig into the nitty-gritty of determining how much food and drink you should order for your party, let's get one thing straight: It's always better to have too much food than too little.
While running out of food can ruin a party, having extra food means you can have guests take home food packages or you can toss it in the freezer for leftover easy meals.
Ordering isn't a perfect science. Each individual person will vary on how much food and drink they will consume hourly or over the course of the event. However, there are guidelines for ordering to ensure that no one goes hungry.
Use our advice to make sure your guests are happy and well-fed throughout your event. Here's how you can figure out how much to order:
General Ordering Rule of Thumb
Let's start with a general guideline that might be a good gut check once you've made some selections and are ready to make your order. The "one-pound rule" is an established guideline that gives you a feel for how much your guests are likely to consume:
​​The One Pound Rule = Provide one pound of food for each adult guest (not including dessert or drinks.)
If you have children attending your event, simply cut this number in half. Allocating about ½ a pound of food per child.
Appetizers
The number of appetizers you need to order depends on if appetizers are the main event or just snacks before the main meal. If you are hosting a cocktail party where finger food is the only food you are serving, you likely want to plan for about double the number of appetizers as you'd need if appetizers are the snacks before a sit-down meal.
Plan for:
6 pieces per guest (if served before a meal)
12 pieces per guest (if no additional meal is served)
2 rolls per guest if serving before a meal
Main Dishes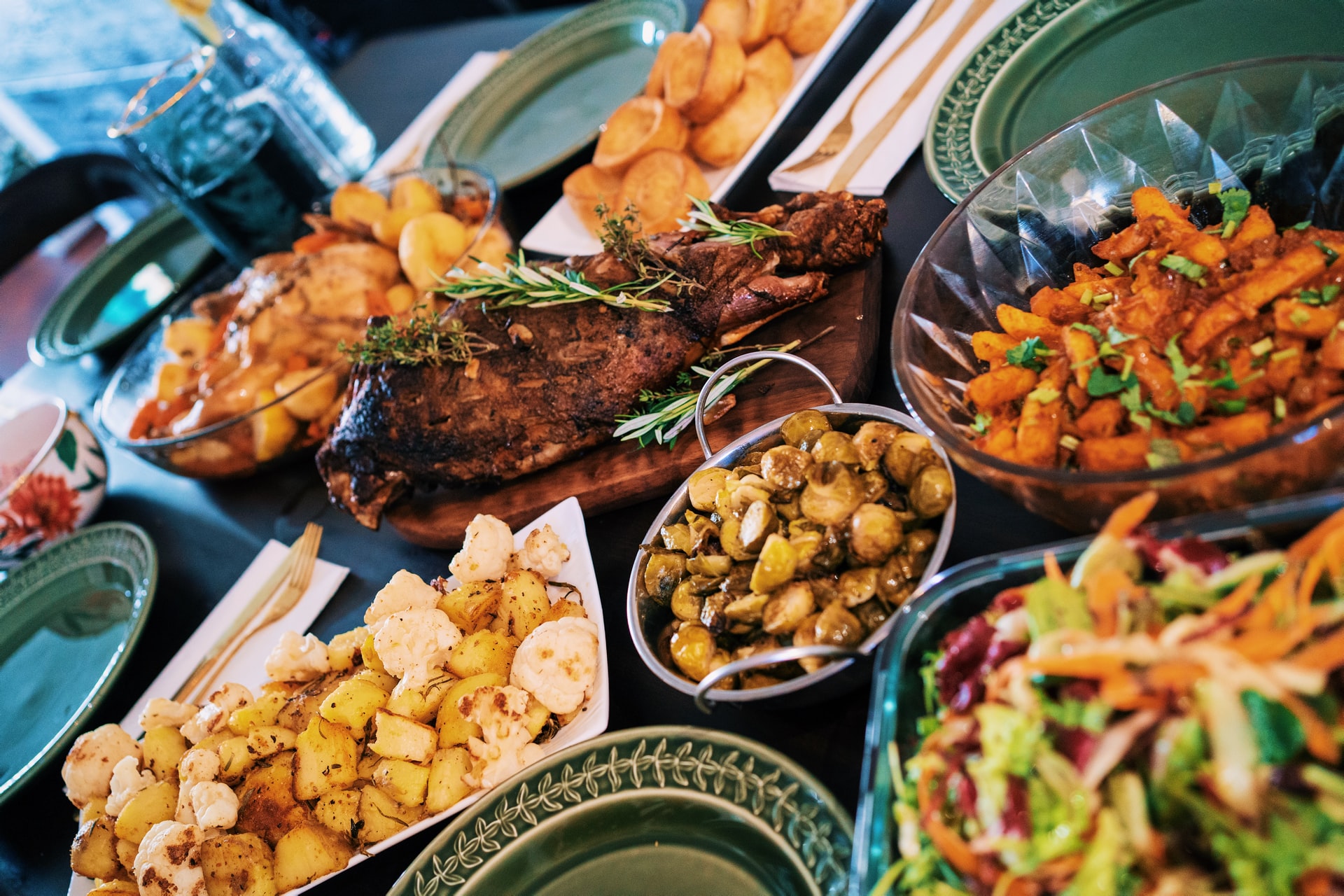 If you're hosting a brunch or lunch event, ordering is very straightforward. We recommend:
1.5 sandwiches per guest for lunches
1.5 bagels and pastries per guest for breakfast and lunches
So for an event with 50 people, you may want to order 75 sandwiches.
Dinners are a little tricker. You should plan for:
8 ounces of poultry, meat, fish, or vegetarian entree (for buffet or sit-down meals)
Side Dishes
For side dishes, the main determining factor is how many side dishes you are planning on offering. For a buffet it is not uncommon to half a dozen side dishes between grains, vegetables, fruits, salads, etc. It's safe to go a little lighter with ordering here as guests might want to try a small sampling of everything.
Account for:
1.5 ounces of rice and grains per guest
5 ounces of potatoes per guest
4 ounces of vegetables per guest
2 ounces of pasta per guest
1 ounce of green salad per guest
Tip: If your caterer doesn't make the weights clear, a typical rule of thumb for sides is two platters of fruits or veggies per 25 guests.
Desserts
Most guests are likely to save room for dessert at your party so you don't want to skimp here either. Here are our general rules:
1.5 pastries or cupcakes per guest
1.5 scoops of ice cream per guest
Cakes have a lot more variables and will likely be best determined with some advice from your bakery. As a starting point, consider the serving sizes:
Party cake slices = 2x2 inches
Wedding cake slices: 1x2 inches
So you can use this as a rough guide:
A 6-inch cake = 10 servings
A 12-inch cake = 25-35 servings
Soft Drinks
Onto the drinks! Starting with non-alcoholic use this rule:
1 cup of water or bottle per person per hour
1 lemonade, tea, or soda per person per hour
Beer & Wine
You'll know your guest list better than we do for this one–but here's a starting point for you:
2 drinks per person per hour
Spirits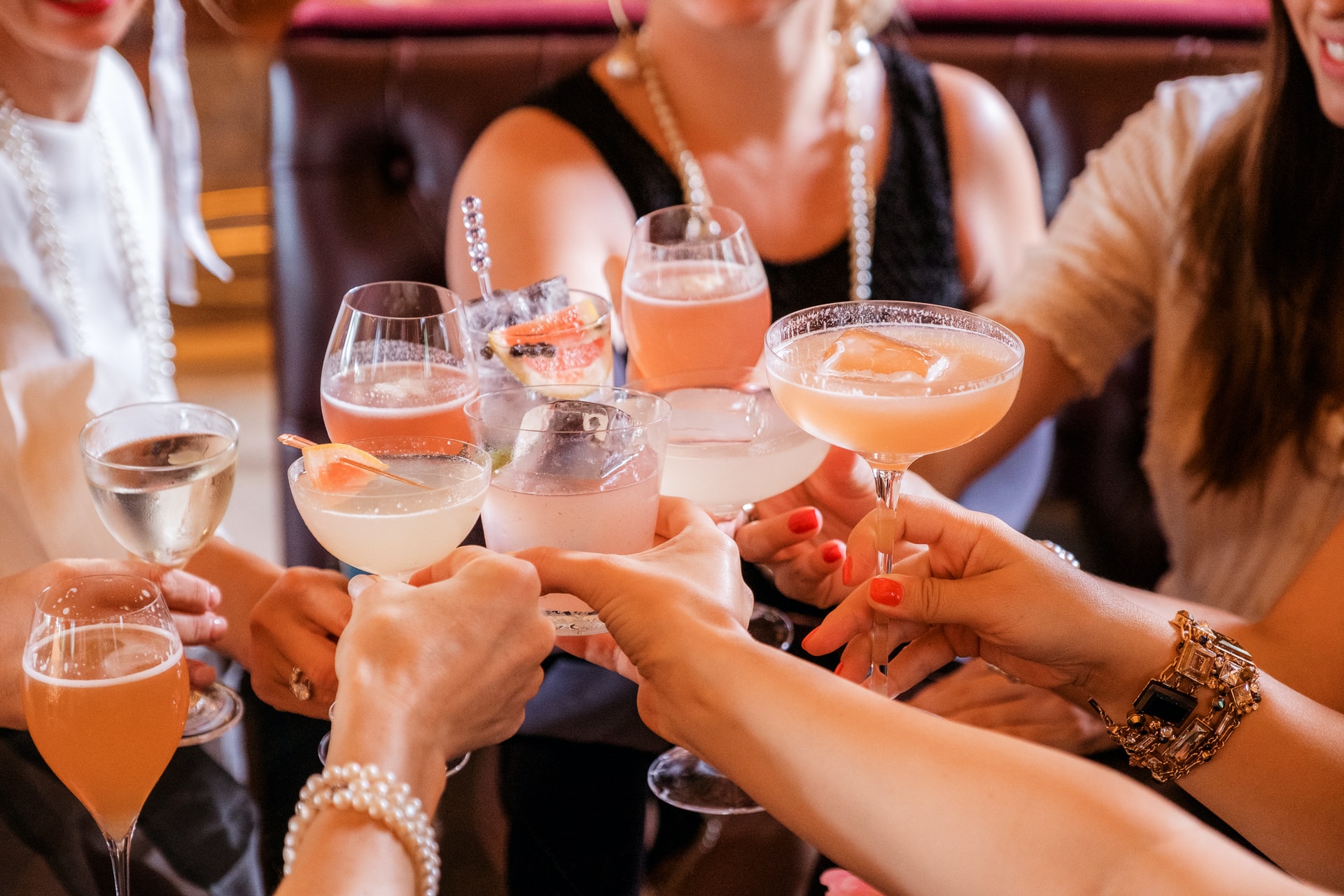 Again, this depends on if cocktails are a main component of your event. Will your event have a signature cocktail? If so, use this rule for any main spirits like vodka, tequila, rum, or whiskey:
1 bottle per every 10 guests
Final Ordering Advice:
Rely on your caterer: Unless they're a brand new vendor, chances are they will have an excellent idea of how much you'll want to order based on the size of your guest list. They'll also have insight into which dishes tend to be more popular than others.
Consider the ages of your guests: Children under 12 should account for half portions compared to adult servings.
Pace the party: Don't put all the food out at once. If you slowly introduce new courses throughout the event, your guests will pace themselves and be able to munch throughout the event so they don't fill up fast then leave hungry.
Looking for more event planning advice?
Visit the EventUp blog for more advice on choosing a venue, planning for the big day, and making sure your event goes off without a hitch.