Themed parties—they're not just for kids' birthdays anymore. A fun theme can make your event feel cohesive, unique, and memorable and add to your guests' experience. Want some party theme ideas to inspire your next event? We've got you covered!
We'll walk you through some of the best party theme ideas out there and how to choose a theme that your guests will love.
Here are our favorite party theme ideas for your 2023 event:
1. TV-themed party ideas
Who doesn't love talking about the latest show they're binging on Netflix? Tying your party to a popular show makes your event feel timely and fun. Ideas to try:
Stranger Things party
Tiger King party
Yellowstone party
The White Lotus party
2. Decade-themed party ideas
Evoking nostalgia is another way to host an event that breaks guests out of their day-to-day life. Ideas to try:
3. Location-themed party ideas
Again, playing with the idea of escapism here is always a surefire way to make your event feel like a special getaway. Ideas to try:
4. Color-themed party ideas
Sometimes the simplistic themes are the most successful. Choose a signature color for the event and let the dress code, decor, and drinks reflect that theme. Ideas to try:
Millennial pink party
Neon party
5. Movie-themed party ideas
Similar to a TV theme, movies provide a great jumping-off point for full-blown character costumes or more subtle references. Ideas to try:
6. Book-themed party ideas
If your guest list is full of bookworms, literary themes are sure to be a hit. Ideas to try:
The Lion, the Witch, and the Wardrobe party
Breakfast at Tiffany's party
Charlie and The Chocolate Factory
7. Music-themed party
This theme makes your event soundtrack incredibly easy! Ideas to try:
Prince party
Disco dance party
80's pop dance party
8. Activity-themed party ideas
It's important to know your audience for this one—and fair warning, this is definitely easier with a small group. Ideas to try:
Political letter-writing party
9. Miscellaneous party ideas
Still, searching for that perfect party idea? We searched through some of the most popular tried and true themes. Ideas to try:
Under the Sea party
Catwalk party
How to choose the right party theme for your event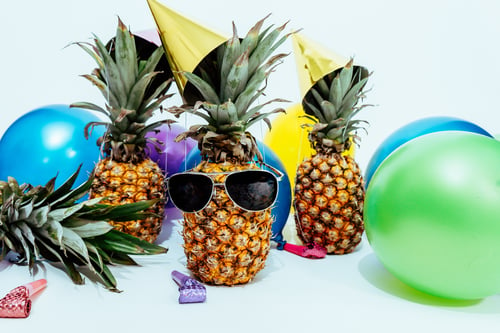 Now that you've got some ideas to work with, here are our three best tips for choosing the right idea for your event.
Step 1: Base the theme on your interests
Themed parties work best when you know the host is genuinely excited about the idea. Not a big Beyonce fan? Don't make your party an ode to her life's work. Don't love sushi? Maybe a taco party is more to your taste. Your guests will be able to tell when a theme is genuine and when you're just going through the motions.
Pro Tip: Your passion can add incredible energy to your event! Make a list of five of your favorite things and see if any of them could work for your theme.
Step 2: Consider your guest list
Of course, your passion is just the start. You don't want to go so niche that your guests won't be able to relate to your event at all. If you have a very specific theme idea, see if it's possible to make it a little more accessible by broadening the theme slightly.
For example, if your favorite band is Wonder Girls, could you broaden your event theme to K-Pop?
Step 3: Consider your budget
For a successful theme party, you want to tie in your dress code, food, drink, invitations, and music to your theme. This is another reason why a more simple theme might be easiest to execute. While it's very easy to order everything purple for an event, it might be harder to custom order everything to match a new trending TV show.
Ready to throw your theme party?
With a great theme in mind, the next step is to find the perfect venue to make your theme come alive! If you're looking for an easy way to search through venues online, use the EventUp venue directory to find the right venue for your event.