Breakfast, Lunch, & Dinner Catering Menu Ideas for Every Type of Event
One of the most important parts of planning an event—if not the most important part of planning an event—is the food. In fact, the overall impression, experience, and success of an event are often dependent on the options, quality, and creativity of the event's catering.
As an industry-leading event planner, your clients expect you to have exceptional, unique, and delicious catering menu ideas. So, let's take a look at catering ideas for every type of event, time of day, and budget. Regardless of the event size, event season, event style, or event type you are accommodating, we have a ton of catering menu ideas to inspire event planners like you and stun your clients.
Catering Menu Ideas Based on Event Time
It's no secret that the time of the event will impact the type of food served. However, regardless of the event time or the menu, you present to your client, ensure you aren't excluding anyone with the catering items you choose. Be sure to include gluten-free, dairy-free, vegan, and vegetarian options that are clearly noted for those who have dietary restrictions. Let's take a closer look at catering menu ideas for every meal that will accommodate every guest.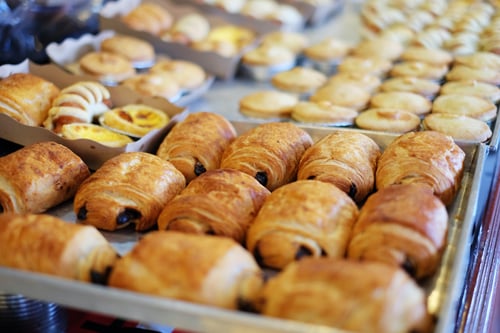 Breakfast Catering Ideas
Breakfast is the most important meal of the day! So, if you are planning an event where breakfast will be served, you'll need to provide a variety of healthy, fresh, and fulfilling breakfast options.
Some top breakfast catering ideas include:
freshly squeezed juices

regular and decaf coffees

specialty café drinks

fruit smoothies

fresh fruit platters

cereal stations

granola and yogurt bars

breakfast sandwiches

breakfast wraps

bagel bars

waffle and pancake stations

pastry bars

omelet stations



Brunch Catering Ideas
Who doesn't love an event that features a boujee, boozy brunch? Brunch culture has been trending in large cities and college towns for quite a while—but it really seems to be picking up everywhere in recent years. That might be because brunch offers the best of both worlds—whether you're craving breakfast, lunch, or both—and brunch also gives people the chance to connect and socialize over alcoholic beverages and good food. So, why not bring that fun brunch energy to your next event?
Some top brunch catering ideas include:
bottomless mimosas

bloody Mary bars

breakfast pizza buffets

omelet stations

crepe stations

specialty brunch casseroles

sandwich stations

burger bars

build-your-own breakfast burritos

donut bars

dessert shooters

carving stations

seafood towers



Lunch Catering Ideas
Lunches are the most commonly catered meals for events. Many types of events fall somewhere within the middle of the day—whether it be a birthday party, graduation party, or corporate event—making lunch the appropriate meal option for the event.
Some top lunch catering ideas include:
salad bars

slider stations

charcuterie

boards

taco bars with mini margaritas

baked potato bars

build-your-own bowls or burritos

soup stations

BBQ buffets

pizza buffets with popular brews

pasta stations with a variety of wine offerings and other Italian-style food buffets



Dinner Catering Ideas
Dinner is typically the largest and most formal meal of the day, so there's a lot involved with planning an event that will serve dinner. Whether you decide to do buffet style, food stations, or a plated dining catering style, there are some simple and unique crowd-pleasers that are sure to be a hit. Depending on the mood of the event you can offer wine and beer or keep the event dry with mocktails and sodas or spa water.
Some top dinner catering ideas include:
quality wines and cocktails

customizable salads

bruschetta or avocado toasts

raw bars, sushi-to-order

hibachi stations

fresh vegetables

comfort foods like mac and cheese

pasta bars

meat carving stations

short ribs or pork chops

unique chicken dishes

coffee dessert drinks

specialty pies and cakes

chocolate fountains

donut walls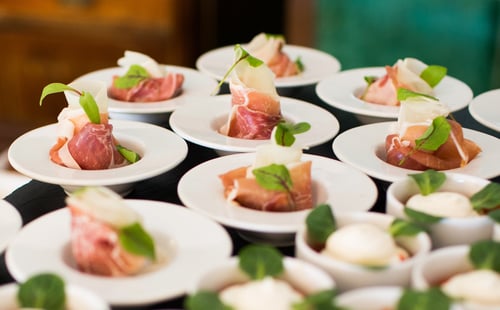 Catering Menu Ideas Inspired by Event Season
Planning an event with a specific focus on seasonality? Check out some of these catering ideas that are inspired by the different seasons of the year.
Spring Catering Ideas
Some spring catering menu ideas include mint and floral alcoholic beverages, lemonade bars, fondues and fountains, finger foods that are affordable and classy, cold soups, simple Mediterranean foods, and other fresh and elegant catering options.

Summer Catering Ideas
Some summer catering menu ideas include fruity cocktails, white sangrias, local beers, lemonades with fresh fruit, fresh and simple appetizers, high-quality veggies and veggie trays, plant-based proteins, veggie skewers, and other light catering options.

Fall Catering Ideas
Some fall catering menu ideas include specialty fall cocktails, football-inspired snacks, pumpkin spice, and banana nut breads, cinnamon rolls, chili and bean soups, pulled chicken, Thanksgiving-inspired casseroles, caramel apple bars, and sweet pies—just to name a few.

Winter Catering Ideas
Some winter catering menu ideas include boozy hot chocolates, holiday-themed cocktails, mulled ciders and wines, red spiced sangrias, fried appetizers, comforting soups, paninis, build-your-own pasta stations, rotisserie meats, and typical winter and holiday desserts such as pies.




Catering Menu Ideas Influenced by Event Size
The size of the event should always be considered when selecting the catering menu and dining style. Let's take a look at catering ideas for groups of all sizes.

Catering Ideas for Small Groups
Catering for small groups can be challenging. Since you don't need as much food, it can be hard to narrow down and select fewer menu options that all guests will love—and the desire to have more variety and plenty of options often leads to wasted food when catering for small groups. Some popular, well-liked catering menu ideas for small groups include breakfast bars, Mexican fiesta lunches, pizza buffets, walking taco stations, and rice- or noodle-based cuisines.
Catering Ideas for Large Groups
Catering for large groups means you need to produce a lot of food, serve that food to a large group of people in an organized and efficient way, and figure out how you can stay within budget while doing it. Some catering menu ideas for large groups include breakfast buffets, boxed lunches, taco bars, build-your-own pasta stations, or family day picnics featuring BBQ foods. Whatever theme or types of food you choose, buffets and food stations are great options when catering to large groups. Offering more options could mean people may eat more food, so you will want to account for that.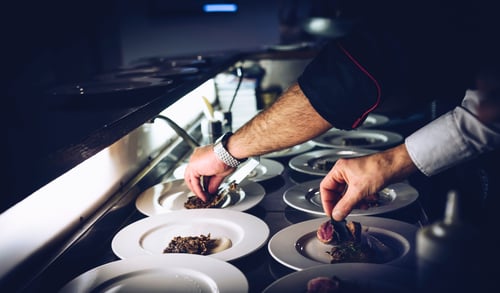 Determining Your Event Catering Style
In addition to deciding what will be on the catering menu, you also need to consider the style in which you will be serving your catered items. Does your event require formal plated meals, or are you looking for something more casual and creative? Let's explore some event catering style options.

Plated Dining
Plated dining is an extremely popular catering style, but it is typically only used at formal events like weddings, fundraisers, and other high-end celebrations and events. With this type of catering, guests are able to choose from a preselected menu when they RSVP, and meals are served by a professional staff of waiters. Plated dining is more elegant and refined than many other styles of catering, meaning it is also more expensive. However, it is no secret that events featuring plated meals leave a lasting impression on guests.
Family Style
A family-style meal is a method of dining in which all the food is placed on the table and guests serve themselves. The different appetizers, entrees, and sides are typically brought out by servers at the event and then passed around the table in large serving dishes. This is a great option for many different types of events where you're looking for something less formal than plated meals but more formal than a buffet.

Buffet Style
Buffet-style meals are the most popular catering style for events and special occasions. If you have ever attended any weddings, bridal showers, graduation parties, birthday parties, or essentially any type of event that serves food, you have likely experienced buffet-style catering. Buffets are typically more cost-efficient, easier to plan, and offer a wider selection of food choices—making them a great option for any and every event type.
Food Stations
Similar to buffet-style catering, food stations feature different food tables where each table has its own unique theme or type of food. For example, one table or food station may feature meats, another may be its own raw bar, and yet another may include a build-your-own pasta station. The opportunities for creative, diverse, and ethnic-inspired cuisine are truly endless with food stations. This can help with allergies by having some stations with allergy-free options.

Food Carts & Food Trucks
Food truck catering is becoming increasingly popular for events—because when you choose food truck catering, your guests can enjoy a little bit of everything. Each food truck is like its own unique restaurant—each with its own unique flavors, variety, and specialty chefs in each area of cuisine. With food truck catering, your clients can also choose their own food truck menu, whether it be a dessert-focused menu for a wedding or street tacos for a company event. The type of food, the number of food trucks, and where they are positioned will all depend on the event.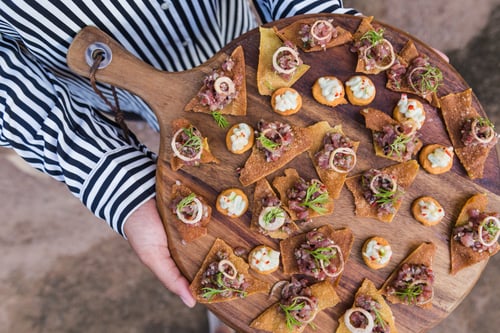 Catering Menu Ideas for Different Event Types
The type of event you are planning may lend itself better to a specific type of food or catering style. Let's take a look at catering ideas for the most popular types of events.

Wedding Catering Ideas
Buffet-style, family-style, and plated dinners are all great options for weddings. And in recent years, food trucks are becoming increasingly popular as well. Some wedding entre ideas include pasta, kebabs, steaks, pork chops, chicken dishes, lobster, fish, shrimp, and beef. For wedding sides and appetizers, consider crab cakes, shrimp cocktails, raw bars, a variety of skewers, salads, bread, vegetables, and different forms of potatoes. For desserts, consider cakes (of course), ice cream trucks, and other dessert bars.

Graduation Party Catering Ideas
Buffet-style catering is the most popular option for graduation parties. Some typical graduation party catering menu items include fresh fruits and vegetables, salads, breadsticks or rolls, mostaccioli, fried chicken, cookies, and cake. And let's not forget the beer and wine!

Birthday Party Catering Ideas
Buffet-style catering is also a very popular option for birthday parties. Some typical birthday party catering menu items include veggie trays, fruit salads, healthy greens, chips, and crackers with dip, breads, pastas, pizzas, baked or fried chicken, cakes, cupcakes, and ice cream bars.

Corporate Event Catering Ideas
The event catering style for a corporate event will depend on what type of corporate event you are planning. For example, if you are planning a gala or fundraiser, you may way to invest in plated dinners. On the other hand, if you are planning an intimate team-building activity, you may want to choose a less formal buffet-style meal. For a corporate event, you can never go wrong with simple foods like salad, chicken, veggies, and potatoes—just as an example.



Pricing for Event Catering
Catering costs will vary depending on the event location, the size of the event, desired event catering style, the level of service, and the quality of food. Catering can cost anywhere from $20 per person to $200 or more per person. As an event planner, it is important to understand your client's needs, wants, and budget when choosing a catering menu.
---
Need Help Finding the Perfect Venue for a Catered Event?
With the perfect event venue, you can throw an unforgettable party in a beautiful space that features both an amazing catering menu and stunning décor. To find the best venue for your next event, start your search on EventUp today!
EventUp is the top online marketplace for event spaces across the United States. Whether you are planning a wedding reception, graduation party, birthday party, business meeting, corporate event, or something else, EventUp makes it easy to discover and rent the ideal event space for your next catering event.
Search our popular event venues today!